Cairo, Egypt, Mubarak and effective knowledge management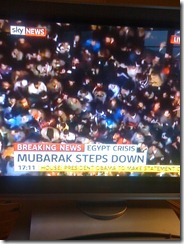 Following the historic event that took place yesterday in Cairo, Egypt with President Mubarak stepping down, I feel compelled to write down and share some thoughts that I have about open knowledge flows, trust, open communications, and the power of mass collaboration.
In September last year, for the first time in my life, I had the privilege to travel to Cairo, Egypt to present a keynote paper at the KM Egypt Conference 2010. The theme of the conference was 'Knowledge Management; a Catalyst for Innovation'.My presentation was entitled and focused on 'Knowledge Management and Innovation in the Global Knowledge Economy' The tracks, presentations and speakers can be found here

The conference was organised by The Egyptian Cabinet Information and Decision Support Center (IDSC), one of the distinguished think tanks in Egypt, which is primarily tasked with supporting decision-makers overs issues of relevance to economic, social and political reform. There were several hundred delegates with, mainly, a strong representation from government and public agencies. The conference was conducted under the auspices of His Excellency Dr Ahmed Nazif, The Prime Minister of Egypt and the conference keynote was delivered by Ahmed Darwish, Minister of State for Administrative Development, Egypt. It was an excellent conference and there was great participation by all. After discussions with many delegates and speakers, and the organisers IDSC, I left feeling certain that many people were very interested indeed in developing effective knowledge management strategies and implementations in their organisations.
I certainly do not want in this post, in any way, to deflect attention to the tremendous efforts and enormous feelings of the people in this historic revolution, as they have set a truly great example, not only for Egypt, but across the world, of people power and unity, individual human rights and freedom.
They should be very proud of this peaceful achievement and giant step towards a more democratic society, at last, and judging from their celebrations and exuberance in the Tahrir square last night, they are most happy indeed with their achievement.
But because I am a knowledge management consultant, and my primary role is to help individuals, teams, organisation and even nations and world regions, with better knowledge strategy understanding, development, and implementation, I cannot help but strongly see the world through a lens of knowledge and how it underlies and drives everything in society.
So, rather, my blog post today is not aimed to be political, but it is aimed at using these extraordinary historic events as lessons and strong examples, and reminders to us all, to briefly illustrate a few of the key principles of effective knowledge management.
I wish to remind us that TRUST in the lifeblood of any organisation, whether its a two person relationship, a small team, an organisation, or an entire country or world region.
Trust has to be earned. Trust cannot be learned. Trust creates the glue or stickiness of a relationship and when trust breaks down, so does the relationship. Nothing could be more vivid than the clear loss of trust that a critical mass of people had in President Mubarak and I believe that this caused them to stay on in the square with such absolute determination that some said they would even die for this change.
And we will never forget that many did, of course.
This complete loss of trust propelled the people to refuse any level of negotiation from Mubarak. In other words, when trust is gone there is no two way negotiation at all. The relationship becomes irreconcilable.
The opposite of trust is FEAR and great doubt, and people cannot continue indefinitely in a very fearful environment.
But when there is, at least, sufficient trust, people will COMMUNICATE, and when there is good trust, people will COLLABORATE. When people are communicating and collaborating, especially when it is two way and frequent communications of rich information, they cannot help but LEARN and develop so much faster.
It was Jan Carlson, ex CEO of SAS, Scandinavian Airlines, who first taught me in the 1980's a very powerful principle "people without information cannot take responsibility, people with information cannot help but take responsibility".
I believe that the new Social Media of today, especially Twitter and Facebook, Blogs and Wiki's, do now play a very important and vital communications role in informing, and in teaching, and in organising people. So, of course, do mobile phones and texting etc, as they all greatly empower all individuals who have access to the internet, to a global degree never experienced in humanity before.
TV and radio and news media is a one-way 'broadcast' to the people.Social media has the ability for massive, collective, almost instantaneous, two way and multiple way shared communications. It has moved us from just a 'SEND' or push model to a new 'SHARE' or pull model.
Even in my personal example as a conference speaker, I am now very aware that it is simply not any more a one way stream of information from speaker to delegates, but, even more importantly, people are creating live conference tweets and blogging streams so that others connected to the internet can also benefit from the collective wisdom of the audiences, as they listen.
And finally, it is the case that when people sufficiently trust and communicate, and learn faster, and, as a result, they develop their knowledge, skills, confidence and competence faster, they 'naturally' want to share with others. This is perfect collaboration and massively powerful. Wikipedia is a great first example of global mass collaboration.
I believe that it is inevitable that all societies and countries in the world, when using these global communications tools and technologies, to better communicate, collaborate, learn faster and share their knowledge, will increasingly demand that the role of Government will be increasingly to 'facilitate' these communications of information and knowledge for the good of the whole. Governments will increasingly be expected to produce knowledge commons for its citizens. 'Knowledge commons' is about creating and sharing knowledge freely for all, for the common good of all, and for the sustainability of the planet.
What I have just described, I refer to as a virtuous upwards spiral. If you increase and improve any one of the elements of trust, open communications, learning and sharing knowledge, ALL the elements will increase even further.
However,if you suppress and decrease any of the elements it then becomes a vicious downward spiral, and eventually breaks down.
The historic events in Egypt illustrate both the vicious spiral downwards to destruction, based on lack of trust and restricted one way, infrequent communications, and the amazing power of this virtuous spiral upwards based on trust, open frequent two way communications, faster learning, confidence, competence, sharing knowledge and, ultimately effective mass collaboration.
Governments need to remind themselves to practice these principles of effective knowledge management, to facilitate a truly transparent, and virtuous, spiral of development and growth for its people.
What and who is next?
Ron Young