Knowledge Management Assessment


Knowledge Management Assessment
If you would like to make an initial assessment of your organisation and/or teams orientation and readiness for knowledge management, please take around 15 minutes to complete the simple multi-choice questionairre below.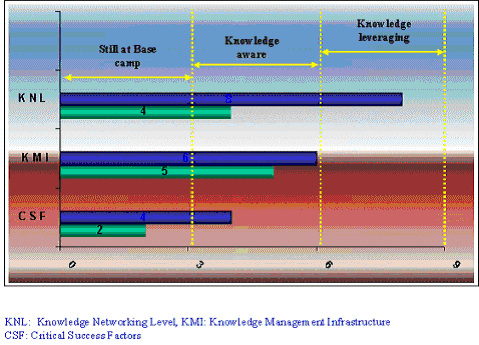 This Knowledge Management Assessment is is a simple web based knowledge survey tool to assess the knowledge orientation of an organisation and provide an indicator of how advanced an organisation is in understanding and implementing knowledge management.
As per the figure above, there are three distinct stages in the knowledge management journey of an organisation. To use the mountaineering metaphor
- still at the base camp
- knowledge aware and
- knowledge leveraging.
Each stage has its own characteristics and resource requirements.
The web based survey poses some questions to assess where your team or organisation might be positioned in this model and where it should focus.
Initially, we provided a totally free service to calculate the results and to send you a short report. To our very pleasant surprise, many people from all around the world started to request this service, increasingly over the years, ranging from large multi-national organizations to small enterprises to entire classrooms of students on a KM project.
This overwhelmed us. So we now provide three options for you:
1, A totally free 'self assessment' scoring that you can perform in about 15 minutes yourself, immediately. To do this:
a) complete the questionaire online
b) print a copy of your completed questionaire
c) follow the self assessment scoring instructions below

To conduct a 'self-assessment' of your results, after completing the questionairre, click here

2. We can conduct the assessment for you, if you prefer, and provide you with a short report, within 24 hrs by email, for a fee of US$10. To do this:
a)complete the questionaire online
b) click 'submit' at the end which sends the questionaire to us, and includes your email address
c) order the assessment service for US$10 here
d) we will send you the results to your email provided
3.If you are an organization that is seeking a wider internal assessment survey online, please provide us with brief details of your requirements and we will contact you by email to discuss your needs.
Click here for Organizational assessment enquiry