KM Open Source Version 1
Knowledge Management Online KM Open Source Version 1 has been freely donated by Knowledge Associates International Ltd as a foundation for the members to collectively develop and improve Version 2, scheduled for release in January 2011.
Version 1 consists of 18 ebooks totalling 576 pages as follows:
KM Education and Tools
1. Directory of KM Principles, Processes and Tools (68 pages)
2. KM Fundamentals (145 pages)
KM Consulting Methodology
3. History of KM (12 pages)
4. Critical Review of KM Frameworks (27 pages)
5. Holistic Knowledge Asset Framework (45 pages)
KM Strategy Consulting Stage 1
6. Providing Leadership (13 pages)
7. Linking Corporate Strategy to the KM Strategy (28 pages)
8. Knowledge Analysis (28 pages)
9. Change Readiness (13 pages)
10. Developing the Business Case (11 pages)
11. Obtaining Top Management Approval (11 pages)
KM Business Improvement Consulting Stage 2
12. Analyse & Improve the Business Processes (25 pages)
13. Analyse & Improve the Knowledge Networks (23 pages)
14. Analyse & Improve the Technologies (29 pages)
15. Create the Knowledge Asset Schema (16 pages)
16. Develop the Knowledge Asset measurements (25 pages)
17. The KM Architecture (16 pages)
18. The 9 Step KM Process (21 pages)

Further details about the free downloads
KM Fundamentals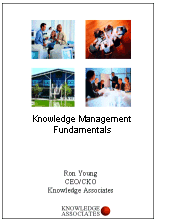 The KM Fundamentals ebook contains a copy of the complete one day seminar slideshow presentation and full transcript from Ron Young of Knowledge Associates International Ltd. This seminar has been conducted in 22 countries around the world. Knowledge Associates International have contributed this book as the starting point for developing open source KM education. The seminar and the 145 page book covers the fundamental areas of:
What is Knowledge Management?
Why do Knowledge Management?
7 steps How to implement Knowledge Management
Future and trends of Knowledge Management


Directory of KM Principles, Processes, Tools


This section contains details of an online open source 'Directory of Knowledge Management Processes, Methods, Tools and Techniques' to be considered for selection within a Knowledge Management Implementation initiative.
Firstly, the Directory contains a categorised list, followed by a 'Big Picture' which illustrates and suggests how these principles, processes, methods and tools map on to, and support, the overall process of better Knowledge Management.
There then follows, for each item, a brief description and where possible, further references and, where appropriate, some templates, instructions and measurement criteria for evaluation and implementation.
As new Knowledge Management processes, methods, tools and techniques are emerging rapidly, this open source Directory is considered to be the first of several regular releases.
The aim is to provide the KM consultant, KM Practitioner and Organisation who are about to embark on a KM initiative with a framework and practical tools to assist with a successful implementation.
The Directory contains:
▪ P0 KM Processes, techniques and methods
▪ P1 From Strategy to reality – 7 logical steps
▪ P2 Knowledge Plan
▪ P3 The 9-Step KM Process
▪ P4 Capturing new learning, insights and ideas
▪ P5 Peer Assist (Before)
▪ P6 Learning Reviews (During
▪ P7 After Action Reviews (After)
▪ P8 Lessons Learned Workshop Technique
▪ P9 Knowledge Nominations
▪ P10 Knowledge Base Management Process
▪ P11 Knowledge Worker Competence Development Plan
▪ P12 Expert Locator / Who's Who
▪ P13 Knowledge Mapping
▪ P14 K-Leaving Interview

KM Consulting Methodology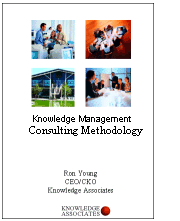 The KM Consulting Methodology consists of 3 Parts, each comprising of a series of modules.
The Methodology comprises:
Introduction
▪ KM Frameworks
▪ History of Knowledge Management
▪ Critical Review of Leading KM Frameworks
▪ Understanding the Holistic Knowledge Asset Framework
Stage One - High Level Strategic KM Consulting
▪ Providing Leadership for the KM Initiative
▪ Linking the KM Strategy with the Corporate Strategy
▪ Performing the Knowledge Analysis
▪ Assessing the Risk and Change Readiness
▪ Developing the Business Case for KM
▪ Gaining Top Management Approval
Stage Two - KM Development Plan
▪ Analysing and Leveraging Knowledge in Business Processes
▪ Analysing and Leveraging Knowledge Networks
▪ Analysing and Leveraging Knowledge Technologies
▪ Defining the Knowledge Asset Schema/Taxonomy
▪ Developing Knowledge Asset Measures
▪ Applying the 9 Step KM Process