Anjana Doshi
by Anjana Doshi
(Middlesbrough, Cleveland, UK)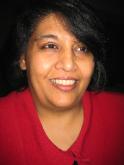 Anjana Doshi ( Anj ) UK based.
I am a passionate and pragmatic management consultant, coach and highly skilled executive team facilitator who believes that understanding the dynamics of knowledge and know how is crucial to employee engagement and performance management.

I am a KM Practioner accredited in the Knowledge Associates Knowledge Management Consulting Methodology.

I am currently very excited about the importance of employee engagement in organisational performance assurance. I use the value of diversity, inclusive working, and collaborative partnering to help ambitious management teams operate as high performance teams whilst executing robust, profitable and yet complex business transformations.

I have 19 years of proven experience in being a successful and passionate change agent. My experience of working with boards, leadership teams, senior managers and where appropriate their customers and suppliers, has attracted me to pay increasing attention to the people dynamics and challenges of delivering successful business transformation and performance improvement strategies. I feel a key challenge is how to re-prioritise the focus on inclusive working and highly effective employee engagement. Many executives consider this a natural outcome of working on process improvement and organisational design change. I strongly disagree!

Examining and reflecting on several years of experience in designing, developing and implementing interventions that are focussed on performance management using disciplines such as Lean Six Sigma has further highlighted the importance of integrating knowledge and know how. Sustainability of change and growth hinges on how people interact, behave and collaborate. Facilitating the best dynamics to ensure sustainability and engagement is a fascinating key dimension for me. Process and system changes are relatively easy in my assessment and get too much priority.

Exploring and highlighting the dynamics through understanding diversity in people and their knowledge includes conducting organisational assessments and delivering performance diagnostics to help my clients determine their strategic priorities; develop their strategies; and produce practical guidance on how to integrate and implement a pragmatic roadmap for the desired transformation - very much people, their diversity and knowledge led.

My extensive blue chip corporate experience working on many continents, in diverse cultures and across global organisational boundaries has further fueled my interest in this area and given me a good foundation to study and accumulate good practice. My experience covers global, public and private sector organisations in Europe, North America, and Asia.

I would very much like to share my thoughts with others who are practitioners like myself and those who may have experiences to share as executives and managers responsible for difficult transformations.