Dr. Prem Saran
by Dr. Prem Saran
(India)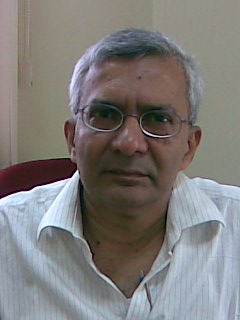 Dr. Prem Saran has been working as a senior official of the Indian Administrative Service, India's elite civil service, for the last thirty-one years. He has a Bachelor's degree in Chemical Engineering from the National Institute of Technology, Surathkal; an MBA, with HR major, from the Indian Institute of Management Calcutta; an MA in South Asian Studies from the University of Pennsylvania; and an MA and Ph.D in Socio-Cultural Anthropology from the University of California at Santa Barbara.

He has developed his own, Indic model for Innovation and Peak Performance, which Dr. Ron Young has--in a personal e-mail--generously termed a "landmark" in the area of Personal Knowledge Management. In fact, Dr. Young has written a detailed entry on it in his widely read blog at htpp://km-consulting.blogspot.com: see the entry dated 23rd February 2008.

Again, that model has been published by the Asian Productivity Organization, in a volume edited by Dr. Safin Talisayon. An earlier version is on his own website at www.geocities.com/drsaranprem; it is titled, "The Sixth and Ultimate Discipline", in a tongue in cheek allusion to MIT Professor Peter Senge's wellknown book on the Learning Organization, viz. "The Fifth Discipline"! And indeed Saran's Model was considered to be an Indic alternative to Senge's work, in an international conference on the Learning Organization in Bangkok in 2005.

Further, a video of the model--shot by a national award winning filmmaker--has been hosted on the main server of the Government of India in New Delhi, as a "unique e-HRD model". It is available at www.assam.nic.in click on "New HRD Model".

Finally, Dr. Saran's model also provides an effective solution to the ever increasing problem of information overload. On the one hand, it is essentially a tool for "Superlearning", which is in fact why he has just made another video version of it for the Government of Assam, for the use of school children in that Indian state.

And on the other hand, his model helps him personally to use the 80-20 Rule to make the time to pursue his interests as a Tantra scholar, too. Thus his first book, "Tantra: Hedonism in Indian Culture", based on his MA Thesis at Penn, went into its fourth reprint in 2006. His next one, ?Yoga, Bhoga and Ardhanariswara: Individuality, Wellbeing and Gender in Tantra?, based on his Ph.D work at the University of California was published in 2008 by Routledge, and released by Dr. Sudhir Kakar; its Foreword is by Professor Jeffrey Kripal, Chair of Religious Studies at Rice University, who has called it an "iconic" work....