Judith de Jong
by Judith de Jong
(The Netherlands)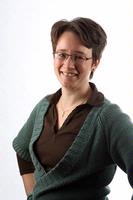 My level of experience:
I am the co-ordinator of the Knowledge and Information Centre. In this role I am responsible for the Knowledge Mangement strategy and implementation within the R&D community.

My KM interests:
- Communities of Practice
- Learningcycle
- Information Management (federated search)
- Facilitation of meetings

MY KM needs:
- Advice how to support communities of practice
- Advice on how to stimulate people to share knowledge
- Advice for setting up a federated search (with FAST technology)

Something more about myself:
A space where I can do the things I believe in makes me happy. I like variation in my work. In my current job I am the co-ordinator of the Knowledge and Information Centre (KIC). I like the role as manager and coach, to help my colleagues improve their work. My focus is working smarter, not harder.

In my work I give advice to researchers and developers regarding knowledge and information exchange and re-use. In cooperation with my colleagues I am looking for improvements of their primary working processes.

I am a member of the CoP support team. As a team we help Communities of Practice with running their CoP and celebrating their success. I have a regular meeting with CoP leaders to discuss their needs and help to run their CoP.

For the KIC I am one of the internal account managers. By visiting and working together with colleagues of different locations, I learn the needs of the researchers and developers in their specific roles. This helps me to support my colleagues in a way that works best for them. I use this knowledge to my advantage in being the linking pin between ICT and R&D regarding information and collaboration tools.

Another thing I really like is being a facilitator. I can contribute to the effectiveness of workshops and meetings by first setting up a good programme that fits the needs of the principal and then lead the meeting.

The KIC has a lot of contacts with other parties. I keep contact with suppliers (e.g. databases, search companies, agents) to feed the interaction between supply and demand of the needs of FrieslandCampina and new developments by the supplier.
Join in and write your own page! It's easy to do. How? Simply click here to return to Global COP Invitation.