KM Fundamentals ebook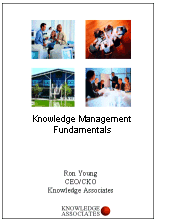 The KM Fundamentals ebook contains a copy of the complete one day seminar slideshow presentation and full transcript from Ron Young of Knowledge Associates. This seminar has been conducted in 22 countries around the world over several years and has been delivered across most industry sectors, public, private, government, education, and to agencies of the United Nations. Knowledge Associates have contributed this book as the starting point for developing open source KM education.
The seminar and the 145 page book covers the fundamental areas of:
What is Knowledge Management?
Why do Knowledge Management?
7 steps How to implement Knowledge Management
Future and trends of Knowledge Management
Option 1 Purchase the ebook now and immediately download it
You may make payment of US$ 12 (twelve US dollars) for the KM Fundamentals ebook through ClickBank, the Internet's leading retailer of digital products and secure on-line digital purchasing system, where thousands of the web's most popular products and services are sold every day.
Immediately after payment, you will be directed to a free download page.
CLICK HERE TO PURCHASE KM FUNDAMENTALS



Option 2 Become an Open Source Knowledge Member 1
This ebook is one of a series of 18 free ebook downloads available to members.